Think He'll Like It?
The Blushing Bride and I will soon be off! We're taking our Fine Young Fool to the
NY Botanical Garden.
Why? To see the annual
train show
, of course! Behold!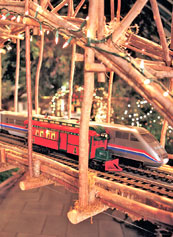 "All aboard" for the magic of the annual Holiday Train Show! Across the Conservatory stretches a wondrous landscape featuring replicas of more than 100 New York landmarks—from the Statue of Liberty to the Apollo Theater to winter scenes from Central Park—made entirely from plant parts like berries, mushrooms, pinecones, and twigs. Garden-gauge trains and trolleys zip through this charming scene, disappearing into tunnels and crossing bridges high overhead. Set amid evergreens and lights, dotted with waterfalls and mountains, it's a fantastic world sure to enchant the whole family.

New this year: The original, 1923 Yankee Stadium and more Hudson Valley mansions, including Van Cortlandt Manor and the Rockefeller estate Kykuit.
I'm betting he'll love it! He hasn't left his new wooden train set alone for more than five minutes.
See you all later!